THE MOST POPULAR GROCERY ITEMS
FROM THE US
For all those who have been to the United States and want to keep the memories of their culinary discoveries alive, for those interested in some of the special or unusual US groceries, and for those fans of well-known US comfort foods... You don't have to wait for your next US trip or shop at overpriced speciality shops.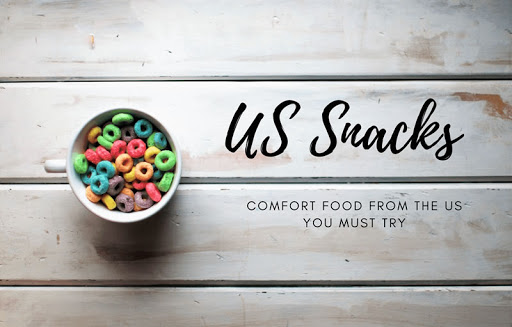 → Shop at US grocery stores like Walmart, Target, Costco, etc. and have it shipped to our BONVU warehouse in the US. We forward the package directly to your doorstep, it´s as easy as that!
We created a list with the most iconic groceries from the US to revive your sweetest memories or introduce you to new unique delicacies:
Reese's Peanut Butter Cups
The combination of salty-sweet-creamy peanut butter and Hershey's chocolate is simply irresistible. This flat, round candy is an invention of H.B. Reese, who worked his way up from a farmer to the owner of a small candy factory. The huge success of the product has lasted for over 80 years and even today the peanut butter cup is still at the top of the snack hit lists.
Mac'n'Cheese – Nr.1 Comfort Food
The first variations of the durable fast food classic appeared in the 1970s, when Kraft first offered simple macaroni pasta in a creamy cheese sauce. Later, the pasta was appearing in all kinds of shapes such as comic figures like Super Mario Brothers and SpongeBob. Since 1998, portion packs have been available that only need to be put in the microwave with the addition of water – the perfect "comfort food" for lazy evenings.
Campbell's Soup – When Soup becomes Art
Not only Andy Warhol loved the red and white Campbell's Soup- it is an all-time favorite of college students, families and even businessmen. Tomato, Clam Chowder, Chicken Noodle, Cream of Mushroom, or Broccoli, … There is something for everyone!
Quaker Oats - Mother of All Cereals
Today's uncountable variety of breakfast cereals in American supermarkets began with Quaker Oats in 1901. Nowadays, Quaker is serving wholesome goodness in various ways from Old Fashioned Oats, Instants Oats, and Granola bars.
Pop Tarts - Breakfast from the Toaster
The fruit-filled pastries are a popular snack in between meals or a quick breakfast from the toaster. They come in all kinds of flavors from Blueberry to Peanut Butter to Cookies & Cream. They have been around since the '90s and are so popular that over 2 billion are sold in the US every year.
Now have fun shopping for your favorite US comfort foods at the grocery shop of your choice. 
BONVU - It's as simple as that!
---