Shop USA
Shop or sell online in America, and have the order(s) sent directly to the BONVU Warehouse.

Consolidate
Consolidate and repackage one or several shipments to help reduce overall shipping costs.

Ship Global
With access to our shipping discounts , and your choice of carrier, you can ship anywhere in the world!

Enjoy
Enjoy your purchase or give the gift your friends or family always wanted!
International Shipping

Have access to our competitive international shipping discounts with choice of shipping carrier.

Repackaging & Consolidation

Reduce overall shipping costs by consolidating and repackaging items into the best fit package(s).

Shipment Inspections

Receive and review photos of shipments as they arrive.

Shopping Assistant

A better way of shopping in the US. We make the payment to be seller on your behalf.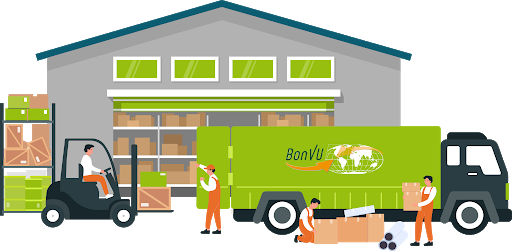 Know your cost before you ship!
Order fulfillment & Warehousing
air & ocean
freight forwarding
Easy & Secure payment options

What People Say
Special Note: When you are satisfied with the service of BONVU.COM, please blog about us. A small entry on your favorite social network or discussion forum will go a long way. Please send your comments, ideas, suggestions to us - click here.
I have been dealing with BONVU for many years now and live in a remote place in the world. BONVU offers great service. They always pack the boxes very well. Customer service is ALWAYS helpful. Over the years, I have saved a lot of money and time using their services. I have ordered all kinds of products from Laptops to tablets. I strongly recommend their service.
Christopher
Using bonvu services for almost 10 years by now. Very professional and reliable. Keep up your good work. Regards from Oz
Dan
The best service one can get. Awesome people to work with. We had a great experience using the shipping and storage service. And Bonvu helped us grow our business internationally. I strongly recommend to use their service and international shipping service.
Bhavin
I found Bonvu very responsive and responsible to their client. Very helpful and even take extra pain to find ways to resolve difficult issues. I recommend Bonvu for all International Freight handling and shipping. They are very fast in action and sharing of information to client is very good and timely. I found their fees quite reasonable. I wish Bonvu all the best. I'll keep using Bonvu in future as well.
Nangkong
I regularly use Bonvu for imports from abroad to Italy. Up to now few problems, indeed when they arose they were quickly solved. Very nice staff. The price has always been very affordable when compared to other operators. Recommended !
Sergio
Used Bonvu quite a lot over the years and they are great. Good prices, products are repackaged if needed and never had any problems. Recommended.
Ruud
They are very Honest and professional, I am from Pakistan working with Bonvu more than 2 years, many times I got favors, and many times I released shipment on load as well. They are much cooperative. Suggest others to use Bonvu Services. Best Wishes for Bonvu.
Imran
I have been working with bonvu for quite some years now. The shipment value has always been very high and I have always known that my shipment is in good hands. Very trustworthy service and very fast too. Especially when time matters. Thanks guys, it's always a pleasure doing business with you!
Alexander
I have used Bonvu a few times now and everything worked out just fine every time. They are quick, reliable and professional. And what's most important to me - their customer service is outstanding - always helpful and friendly. Strongly recommended!
Francisco
Whoever is running your business, you guys are great!! Everything went fast, smooth, with easy and good communication. Fabulous!!! We will be doing business in the future and recommend your company to everybody I know. Thanks again for being easy and uncomplicated.
Andy
I wanted to thank you with this note for your top service and fast shipment! I hope we can stay in touch for future orders! The next order will come soon ;) Thanks and Greetings
Aykan
The shipment is already here in Germany and what can I say? You guys are great! Kudos to all of you – I didn't expect such an easy, fast, simple and most of all inexpensive process. I am very much impressed. I will recommend your service amongst my friends 100%. I hope you will have many new customers!.
Stephan
The shipment just arrived and I want to thank you for the excellent service and the sensationally short delivery time. If only other companies would stand by their offerings and promises like BONVU.COM.I will definitely use your services again. Many thanks and bye.
Thomas
Thank you very much. Great Company. I will tell everybody from your site. Big effort. Looking forward to monday when I will receive the Tracking numbers. If you have any question let me know. If not, good luck for the future and I hope we will work together again.
Andre