BONVU posts Record Year
Package forwarding from the US to the Rest of the World continues to grow
The company BONVU.COM (http://www.bonvu.com) which was co-founded by Austrian Klaus Ruhmer continues its successful growth path. In its third year of operation, the young and profitable corporation was able to more than double its revenue compared to the previous year. BONVU offers a service of consolidating and forwarding items from the United States to other parts of the world. Overseas customers who want to shop online in USA mainly use the service if the seller doesn't ship overseas or can't offer low shipping rates.We have to thank our repeat customers for the excellent results of our business activities" explains Regina Ruhmer, CEO of BONVU.COM. This is also why BONVU has determined and honored its Customer of the Year.The gift was worth traveling to Austin, TX where it was personally handed over. Dieter Hoeller, a passionate collector of antique motorcycles in Austria, loves to "dig" online in USA for spare parts or entire motorcycles.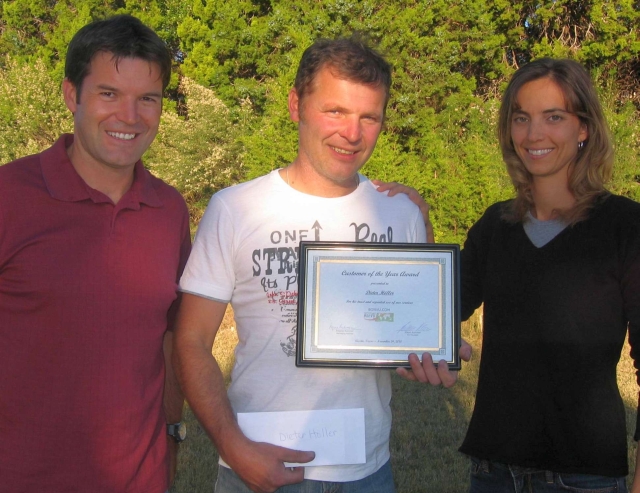 Regina Ruhmer adds: "We also have to thank the thousands of customers who use our service only once or twice such as Mr. Guido D. from Germany. He used BONVU to acquire a snow blower for his lawn mower which isn't available in his country but quite inexpensive in USA".
Like every year, BONVU will donate 5% of its profit for a worthy cause.
For 2011 the company expects further growth since shopping in the dollar market continues to be financially quite attractive.
---
For more information:
http://www.bonvu.com or This email address is being protected from spambots. You need JavaScript enabled to view it.