Online Shopping Overseas – An Unstoppable Trend
The strong Euro is driving consumers and businesses towards shopping in USA.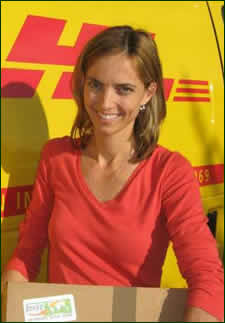 The unusually high Euro-Dollar exchange rate has drastically impacted the export capabilities of many European businesses. Products manufactured in the Euro market and designated for sale in Dollar markets such as the United States are suffering significant price pressure. However, the opposite is also true: One man's meat is another man's poison. Exports from the US to Europe and elsewhere are cheaper than ever.
Large corporations such as international retailers have taken advantage of these kinds of exchange rate fluctuations for decades. For them, global shopping has become routine and business as usual. Not so for mid-size or small businesses as well as private citizens. Only the widespread availability of the Internet has provided them with essentially unlimited access to global shopping. Nowadays, almost anyone can go on EBAY, AMAZON, GOOGLE or YAHOO, enter the desired item and be presented with countless offers of the particular product from various sources in a matter of seconds.
"Global shopping has become common practice", comments Regina Ruhmer, CEO of BONVU.COM in Austin, TX. "It is hard to believe what type of items our European customers buy here in the US. People are buying car parts, clothing, shoes, sporting goods, musical instruments, electronic gadgets, collectors' items of all types and anything else you can image. We even have people who buy baby diapers in the US."
Founded by Austrian born Klaus Ruhmer and Franz Haghofer, BONVU.COM is focused on consolidating and forwarding of items purchased in the US. Online shopping is the easy part – what remains challenging at times is the efficient transportation of the goods to another continent. BONVU ensures inexpensive, fast and reliable shipping directly to the doorsteps of the customer. "We have our US goods regularly bonvu-ed to us. This saves us money and makes the purchases worry-free!" says Thomas from Duesseldorf, one of many BONVU users.
Transportation is a volume business. Only shippers with volume can manage cost and therefore offer low prices. BONVU.COM's new service is designed to bring exactly those advantages also to small business owners and private individuals. BONVU collects and consolidates the items, checks and optimizes the packaging to ensure inexpensive and save transportation and ships the package using a renowned service provider such as DHL, FedEx, USPS or UPS. Due to the volume, BONVU gets very steep discounts from these providers which are being passed on to the clients. In addition, the service also includes preparation of proper documentation for customs and import in the destination country. The items are being insured and upon request even inspected prior to shipment – including picture and a brief report.
In case the seller doesn't want to accept foreign credit cards or other forms of payment, BONVU can actually pay for the item in behalf of its customer. Special services like this are typically being processed in the newly created "Specials Department". This department can also arrange for sea-freight transportation or scheduled item pick-ups at the seller site for example for very heavy or large items. Any other logistical challenges such as support during price negotiations, item storage, special shipping instructions, etc. can be tackled by this new department.
---
For more information:
http://www.bonvu.com or This email address is being protected from spambots. You need JavaScript enabled to view it.